Last night, I had a date to see the mighty, moving and mysterious Fiona Apple at the Calvin Theatre in Northampton, MA. Wow! It was one of the most brilliant, brazen, bizarre & beautiful concerts I have ever seen. She's Sylvia Plath, Edith Piaf, Wednesday Adams, Janis Joplin and Minerva rolled into an unforgettable sonic force. I was mesmerized by her shifting self: a percussive performance poet in a shiny gown, growling gospel warnings to whimpster exes; an angular yogini mouthing urgent, vexed gibberish; a wide-eyed, wounded child, cowering beside a grand piano, playing her slight thighs like a keyboard; a tongue-in-cheek criminal, squirming behind the microphone, daring us to sing along. Her clunky boots combated the stage (say a prayer for the knees). She dragged her voice through the mud then nailed a note so clean, so high, the audience stopped breathing. Even from my balcony seat, I felt like she was staring.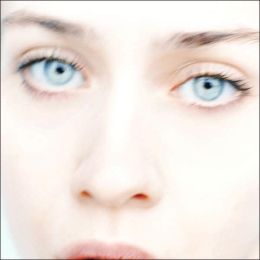 She had me at Tidal.
By now you already know: there's a new album with a long title and a USA tour. Go!